Monday, October 31st, 2011
Tom Swift Jr. and his associates at Swift Enterprises wait breathlessly for what may well be the most important scientific event in history—the arrival of the visitor from Planet X—a visitor in the form of energy. But there are factions at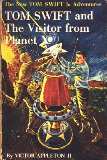 work determined to snatch the energy, which Tom has named Exman, from the young scientist-inventor's grasp. First, a series of unexplainable, devastating earthquakes threaten to destroy a good portion of the earth, and Tom suspects the Brungarian rebels who obviously would like to capture Exman and use the space visitor to further their own evil purposes.
With the security of Enterprises and Exman at stake, Tom creates two of his greatest inventions—a Quakelizor to counteract the simulated earth tremors, and a container or "body" to house the energy from outer space.
If the earthquakes cannot be stopped, the entire world will be threatened by destruction, and the Brungarian forces will conquer the earth. How Tom utilizes all his scientific knowledge to produce swift-action results and outwit the Brungarians makes one of the most exciting Tom Swift adventures to date.
Victor Appleton II, Tom Swift and The Visitor From Planet X (dust jacket notes)